Our Story
To a child, birthdays are more than just a cake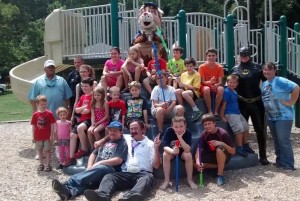 Children all over the world, including your neighborhood, go year after year without anyone showing up to their birthday parties because they are either alienated, bullied or both. Founded by Lisa Geng together with other members of the Cherab Foundation along with like-minded souls who simply care, crowdFunnit fosters acceptance and compassion for those children that need a little help making friends. Following on the heels of a successful open invitation for a child in the summer of 2015, which went viral after Cherab Foundation President and Founder Lisa Geng shared the story to the online community Reddit, the crowdFunnit Project under the 501(c)3 nonprofit Cherab Foundation was created, serving as a proactive measure to help these celebrations come to life.
August of 2017, crowdFunnit hosted a crowdFunnit birthday party for  William Morales, a child local to Lisa who had been bullied and alienated.  Close to a thousand compassionate people, including cosplayers dressed as superheroes, police, fire fighters, and members of the military, along with hundreds of motorcycles, classic cars, and even the Ghostbusters in their Ghostbusters car, came together as a community as featured on Inside Edition to foster acceptance, compassion, and friendship for William and all like him.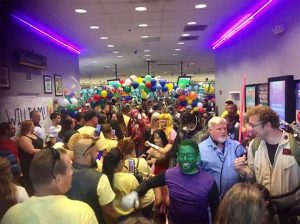 Having friends helps build confidence and self-esteem and you can help by making these special children the focus of a birthday celebration full of fun and friendship. crowdFunnit strives to provide a safe way for parents to invite the community and the world for that matter, via social media, along with local businesses to help create a birthday celebration of interest to their child.

Together we can help every child enjoy the simple pleasure all children deserve, a happy birthday with friends.
Cherab Foundation is a worldwide 501(c)(3) nonprofit volunteer organization working to improve the communication skills, education, and advocacy of the verbal disabled. Areas of emphasis are apraxia and autism. Main projects: crowdFunnit, a proactive way to stamp out bullying one birthday party at a time, Late Talkers, a multimedia project to foster acceptance through personal stories, Pursuit of Research, promotes and seeks clinical validation for good nutrition. Every child deserves a smile and a voice!
The Cherab Foundation is currently seeking the generosity of people and corporations to help us accomplish our mission.  A message from our Vice President Jolie Abreu